強靭な船体
FRPの単板は、かなり厚く積層しても、船体にかかるたわみやゆがみの圧力には、脆弱だ。
外洋での大きな波や、強風での船体にかかるストレスに持ちこたえるには、FRP単板の船体にしっかりとした補強が必要になる。
キャリバーヨットが強靭なヨットと言われるには理由がある。
大きなストレスがかかるキール上部に、格子状に配置した清水タンクや燃料タンクの構造物を取付け、船体と一体化接着し、充分な強度を持たせる。
また、上記構造物を完全に船体ボトム部と接着をするため、本船と同じような2重底(ダブルボトム)に近い形状になる。
これはIntegral Strength-Grid Systemと呼び、大変手間がかかるため、同じ工法で製造されているプロダクションヨットは少ない。
この工法は、清水や燃料など、積載する多くの重量を船体の中央に集中配置し、ピッチングやローリングのモーメントを軽減し、復元力に寄与するという、外洋ヨットのパフォーマンスと安全性に、大きなメリットをも同時にもたらす。
Integral Strength-Grid System
TM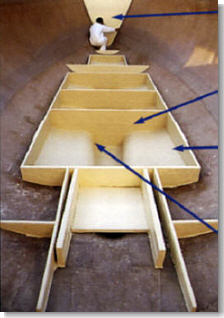 Water-tight Collision Bulkhead heavily glassed in place bonded to the hull and the structural dividers forward of it. This creates an extremely strong matrix structure.
Integral tanks, lids, and baffles add tremendous strength to the sub-sole structure to help spread loads evenly over hull. Because the lids will be heavily bonded in place, any surface are of the tanks, will act to form a double-bottom.
Structural sub-sole will be laminated around it's entire perimeter adding a complete bonding between grid structure and hull. Bonding all structures together. Keel, engine, and primary sea loads will be spread evenly over entire bottom surface area.
Stringers are heavily glassed into position with extra heavy laminates and resins. Entire grid structure acts as a single strong unit.
また、キャビン内の隔壁や収納もすべて船体側まで延長し、船体との接点部分を、熟練した職人の手によって、1箇所ずつ、丁寧にFRPで積層してゆく。
これはMulti-Bulkhead Bonding Systemと呼ばれ、この工法に要する一手間一手間が、キャリバー・ヨットの強靭な船体を造り上げてゆくことになる。
Multi-Bulkhead Bonding System
TM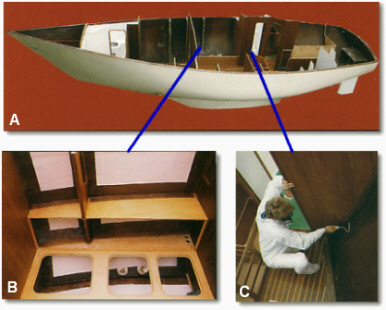 A. No large, labor saving, fiberglass pans in this method of construction. Everything is bonded bow to stern. from top to bottom. It's labor intensive, but creates an extraordinarily strong yacht.
B. Note the ease of access to bonding all the surfaces. This creates a very strong and solid structure, evenly spreading out loads throughout this entire area. It's a lot of work but makes the hull incredibly strong.
C. Our Multi-Bulkhead Bonding System? and careful craftsmanship ensure that a Caliber can handle the stresses of the sea. Note the bulkhead is taped top to bottom with no obstructions to interfere.